Carmichael Fencing Company
Carmichael Fence Company | Residential & Commercial Fencing
Carmichael Fencing Company knows the importance of quality fencing for homes and businesses. That's why our fence installation staff uses the highest quality fence materials to help ensure that your fence will be around for years to come. When you choose Carmichael Fencing Company, you're choosing a fence company that is dedicated to top-quality fence services and one that provides expert advice on fencing options available to you.
Give us a call at (916) 520-0738 to get free estimates.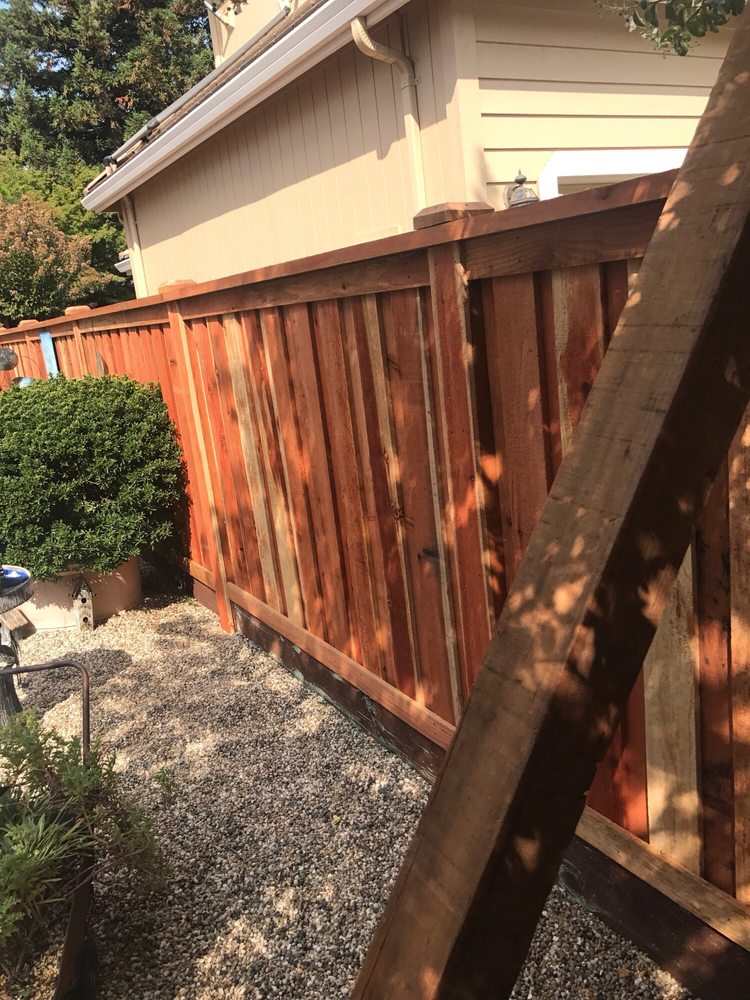 The Most Competent Fence Installer in Carmichael, California
Carmichael Fencing Company is a fence company in Sacramento, California, that specializes in fencing installation & fence contractor services for both residential and commercial customers. Their employees are experienced with installing everything from basic vinyl to decorative iron or ornamental wrought iron fences. With decades of combined experience, Carmichael Fencing Company can provide designs, materials, estimates, and installation for the type of fence customers want to complete.
For the best kind of fence installation for your specific needs, contact Carmichael Fencing Company directly at (916) 520-0738 or visit their website at https://carmichaelfencing.com to see how they can benefit–and beautify–your home or business.
Once, in an old movie, a kindly man who'd been hired to install a fence for a young family asked:  Are you trying to keep people in, or are you trying to keep people out? In truth, these are just two important reasons to have a sturdy, solid fence for your property. Nor is it always just people with whom we are concerned. Chain link fences do a stellar job of keeping dogs in the yard, whereas a harmless two-wire electric fence can do wonders protecting your garden from rabbits and raccoons. 
Carmichael Fence Services
Carmichael Fencing Company is Sacramento County's expert for the installation of metal fencing, wood fencing, vinyl fence installation, pool fencing, fence repair, and so much more. Not only that, but we offer styles and colors that are certain to be just right to obtain aesthetic and architectural beauty. This is also true of the fence installation services we provide for commercial fence projects, where our fence construction can also include security fencing to match. Carmichael Fencing Company can provide beautiful fence installation that will suit any style or budget.
Our products are known as the best in Sacramento County. We're happy to offer free estimates on metal, wood, and vinyl fence installation. Call us today for a no-obligation estimate!
With just one phone call, we can set things in motion. Merely describe for us the purpose of your fence, what you'd like it to be made of, and how you want it to look. From there, it's all on us. Not that there's any pressure, because we've been at this business for so long, we guarantee our work is going to make you happy. If you live in Sacramento County and need a new fence, commercial or residential, give us a call at (916) 520-0738.
Metal Fencing
Carmichael Fencing Company can help you with installing a metal fence and contractor services for your Sacramento, California property. With a wide selection of metal fencing styles and designs to choose from, we can help you make the best choice for your needs. Let our trained staff give you a hand! It's all part of what Carmichael Fencing Company does best.
No matter what metal fence style you want (whether it be a black metal fence, metal privacy fence, metal pool fence, or ornamental metal) we work with steel, aluminum, and iron materials to provide our customers with a metal fence that is both affordable and long-lasting.
Give us a call at (916) 520-0738 to get free estimates.
Our fence contractors are trained to install and repair metal fences of any kind. The most common kind of metal fence in the industry is likely of the chain link variety. Our chain link fences are an excellent choice for back lawns. They are made of strong galvanized steel and do a good job of protecting your property while at the same time keeping small children safe from the street. The chain link fence is also budget-friendly and low maintenance, and because it is made of interlocked, coated steel wire, so it allows for full visibility from within and will not block sunlight.
For results that are a bit more decorative, ask about our wrought iron fences. These fences are tough as they come. If you've seen them, then you know what we mean. They don't damage easily. Wrought iron fences can also spruce up your home with a touch of class and style. Because they are made with an element of carbon, they are malleable enough to form a wide variety of designs. This really puts the ball in your court for both style and color. 
Our fence contractors receive a lot of calls for metal fence installation. One customer had a fence that separated his yard from a railroad track. Our fence contractor was able to install a metal fence with the least amount of damage possible and painted it to look great.
We are also working on doing a lot of pool fences for our customers who own pools and want to keep pets, children, or unwanted neighbors from using their pool. We have just added an amazing workers who was a pool fencing Perth specialist, get in touch today for pool fencing. It's a fence installation we handled involved something different: metal fence panels—in this case, to fence off the pool. Our fence contractor was able to install this pool fence to meet the requirements of state and local laws, all while keeping our customer happy at his expense.
Our metal fences are durable, strong, and made with the traditional metal fence materials you love. If metal is what you are looking for, give our experts a call at (916) 520-0738! 
Wood Fencing
Carmichael Fencing Company is well known for its wood fencing installation and can supply you with beautiful wooden fence contractor services.
For a classic option, ask about our pressure-treated pine fencing. It comes in three varieties (stainless steel, green or natural) and has that distinct warm, woody look to it. This option is a great choice for around your pool, around the back of your home, or elsewhere on your property.
It has good resistance to rot and insect infestation due to its treatment that makes use of certain vital preservatives. It looks classically beautiful in an English garden—and you can take it up a notch by having the planks sanded smooth, creating an even more refined look.
We also have cedar fencing that is sturdy and creates a wonderful look with its natural wood finish. The deck or veranda of your home will look fantastic with wooden fence paneling surrounding it. If you choose to go this route, you can be sure your cedar fencing will last for years to come.
Also, be sure to look through the other fence materials we offer at Carmichael Fencing Company. You'll see that our wooden fences are fantastic options for residential or commercial spaces—and they're also great choices if you want privacy.
Carmichael Fencing Company will install handsome wood fencing of just about any size and style imaginable. Looking for a traditional picket fence? No problem. Or perhaps your needs call for something more rustic, such as a post and rail fence. And there is the decorative appeal of wood lattice and louver. These are just a few examples of styles that we can make out of wood such as Douglas Fir, cedar, or redwood.
Wood fence installation is something that's high on our list of fence services. For example, one customer had a fence built to run along the driveway, with posts installed in concrete. This fence was built to help provide privacy without taking up too much room. Another fence installation job we handled involved wood fence panels, as he wished to fence off the pool at a neighboring yard. Our fence contractor was able to install this one just right—and our customer was thrilled with the results.
Carmichael Fencing Company has been in business for a long time. We are known for wood fence installation and wood fence services of all kinds. We treat fence installation as it should be: a serious matter requiring the best fence contractors in Sacramento and surrounding areas.
And not only do we do the installation. Our fence services include wooden fence repair of all the above types plus more. With Carmichael Fencing Company at your service, you can be sure your wood fence will look gorgeous for many years to come.
Vinyl Fencing
Carmichael Fencing Company is central California's leading expert in vinyl fence installation. Vinyl fence is the fence of choice for homes looking for a fence material that:
will not deteriorate or require paint

does not fade in sunlight, nor get "caught" on clothing and cause tears

is easy to keep clean with a simple hose down. Simply spray it down after it's installed! 
You can get vinyl fence installation of just about any variety you want, including black vinyl fence, decorative vinyl fence, the classic white picket fence, and more. There are quite a few advantages to using vinyl for your fence. This plastic-based material is low maintenance, does not splinter or rot, does a pretty good job of mimicking real wood, and is super easy to clean.
Yes, vinyl fence installation is just another one of our many services here at Carmichael Fencing Company.
Give us a call at (916) 520-0738, and we'll take care of everything—delivery, installation, and answer any questions you may have. We'll hook you up with the best fence to suit your needs. We'll handle all other aspects as well, from site preparation to the finishing touches.
A vinyl fence is great if you're looking for privacy and security without compromising on space. If you have a pool or hot tub, vinyl fencing will greatly reduce the risk of pets and small children getting into the area.
Carmichael Fencing Company fence contractors are trained to install vinyl fences with the utmost precision. Vinyl fence installation can be time-consuming for the DIY worker. It requires care and attention to detail. If you want your fence installed right, give us a call today. We have been providing fence services in Sacramento County for many years now—and our fence contractors know exactly what they're doing.
Vinyl fences come in lots of different styles and colors. For instance, one of our customers wanted to put up a black vinyl picket fence. Another client wanted to have vinyl posts placed along her garden walk-path. We were able to deliver just what they wanted for both jobs and provide them with years of high-quality fence service.
Carmichael Fencing Company helps you find fencing that fits your needs, and our fence contractors work with you to ensure that your fence installation is done right. They can be tall with blocked sight lines, of a quaint picket design, ornamental, or even latticed. Our vinyl fence installation gives you the versatility that's attractive and durable. Contact us at (916) 520-0738 to find out more.
Carmichael, California, isn't the only location our quality team can reach. Carmichael Fencing Company provides fencing services all over Sacramento County, including Sacramento, Rancho Cordova, Fair Oaks, Folsom, Orangevale, Roseville, North Highlands, and Walnut Grove.
After all, you shouldn't have to paw for hours through contact number after contact number and address after address just to pin down a reliable fence contractor—no sir or madam. Our location service makes it all easy-breezy. We've got you covered on both sides of whatever kind of fence you need.
By calling us at (916) 520-0738, you can get the process started today!
Contact Carmichael Fencing Company
To help protect your Sacramento County property from the outside and inside, the safest bet lies with Carmichael Fencing Company. Let your pets roam in the yard without worrying about their escape. Know your children are safe from the street while they play. With good protection comes peace of mind. And with peace of mind comes a happier environment for all who live in it.
Spruce up your home or business with a new fence from Carmichael Fencing Company. We have been serving Sacramento County's fencing needs for many years, and we are highly skilled at fence installation. Give us a call today when you need privacy, security, or just a nice fence to look at. We're here for any kind of fence you need!
The installation of your perfect fence comes easy when you call Carmichael Fencing Company at (916) 520-0738.